Judiciary, do more for mentally challenged sexual abuse victims (Wednesday September 26 2018), Retrieved from Daily Nation.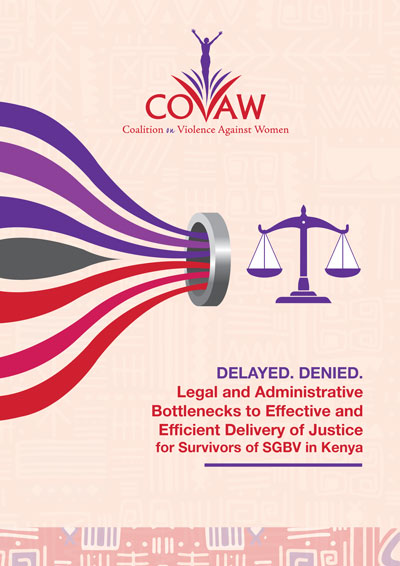 There is a group of girls and women in Kenya who go through all manner of abuse and stigma with little help. They get violated, abused and stripped of their dignity by the society — including by those close to them.
There are innumerable cases of women and girls, and boys, with mental disabilities who have been subjected to sexual abuse but cannot access justice due to all manner of obstacles and crazy court rulings.
Some of these victims of sexual violence have had cases against their attackers taken to court either by relatives or organisations on their behalf but, for some reason, justice has been long in coming.
DISABILITY
A key reason that mentally challenged women and girls have had difficulties in getting justice is their disability, the very attribute of which they are attacked in the first place.
Never mind that we still have outdated laws and policies that are not only insensitive but also derogatory in addressing sexual and gender violence visited on such women and girls.
Delays in prosecuting such cases have been clear.
The Coalition on Violence Against Women (Covaw), which has a programme to help women, girls as well as boys with mental disabilities who fall victim of sexual violence to access justice, singles out a backlog of DNA results at the Government Chemist as one of the reasons for the delays.
Covaw executive director Wairimu Munyinyi-Wahome cites instances where they have had to take the initiative and prepare witnesses where prosecutors fail to do so, in cases where the organisation holds brief for the victims.
LAX PROSECUTORS
They also encounter lax prosecutors who quote outdated particulars of the law regarding sections of the Sexual Offences Act and the Penal Code in sexual violence cases involving women, girls and even men with mental disabilities.
In Nanyuki, for instance, a woman with mental disabilities was raped by a man said to be a family friend. When the matter went to court, he was charged with "involvement in prostitution with a person with mental disability". Not rape.
The court allowed Covaw's application to amend the charge but, two years later, the 40-year-old woman awaits justice.
WILLING PARTICIPANT
In Nyeri, a mentally disabled woman was continually raped for a year.
The suspect admitted to impregnating her but was acquitted, with the magistrate arguing that the court was unable to tell whether or not she was a willing participant.
Covaw is seeking a judicial interpretation on whether a person with mental disabilities has the capacity to consent.
But what kind of men are these who target such women and children? Some even conspire to subvert justice by influencing delays in hearings through lengthy adjournments. Others intimidate the victims, including by threatening them and their families.
In Kitui, a disturbing case is still pending. It involves the defiling of a 13-year-old girl with a mental disability, reportedly by the head teacher of the special school where she was a pupil. The child has since given birth from this rape but her at-tacker has denied the two charges of defilement and indecent assault.
ASSAULT IN SCHOOL
The 2016 case is still active. In court, a number of parents came out to complain to Covaw officials that their handicapped daughters had also been sexually assaulted at the school. They were advised to report the matter to police.
In Nyeri, a case was filed of a mentally challenged minor who was defiled and impregnated by a neighbour.
The suspect had attempted to use his connections with an administrator to have the matter hushed up. An arrest warrant was placed on him. Then 16, she has since given birth.
At the Makadara courts in Nairobi, a case involving rape of a young man with mental disability is still at the hearing stage since 2014. In Nyahururu, another that involves a gang-rape of a 13-year-old has been before court since 2015.
There are many others in Kiambu, Nyeri, Milimani and Kibera.
Many cases involving sexual assault against this category of Kenyans are pending in court, yet society seems to either turn a blind eye or simply leave the victims to their own devices.
Mentally unstable individuals require special attention and care more than the 'normal' ones are giving them.
The Judiciary should vacate the lacklustre attitude they have exhibited for years and do what they ought to for society — protect the most vulnerable. Our courts are, rightly, the last line of defence against injustice. They ought to live up to that.
Ms Rugene is a consulting editor. nrugene@gmail.com. Twitter: @nrugene